The sound track for Executive's video trailer was mixed by Leslie Wolfe personally. Digital sound mixing is one of Leslie's hobbies.
Devil's Move (2014)
Leslie visited New Delhi several years before writing Devil's Move. Alex Hoffmann's favorite restaurant in the book, Bukhara, was Leslie's dining place of choice for the entire duration of the stay.
The Backup Asset (2015)
The bar described in the book, 17:00 Somewhere, is inspired from the layout of one of Leslie's friends' man cave.
The Ghost Pattern (2015)
Leslie spent hours at the gun range with an instructor to select the weapons to be used in the book. Leslie fired every single one of them, taking notes about the feel and handling of each one.
Operation Sunset (2016)
Leslie spent weeks researching and learning about volcanoes, magma movements, and earthquakes before writing the book.
Adverse (2016)
Leslie wrote Adverse in 2016, a full-length feature screenplay based on Executive.
Dawn Girl (2016)
The bar described in the book, Media Luna, was named after one of Leslie's favorite places, a small beach town on the Northern California Coast, Half Moon Bay. Media luna means half-moon in Spanish. It also means crescent and croissant.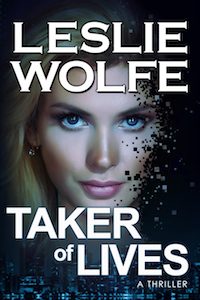 New Release: Taker of Lives
Until yesterday, no one knew Florida had another serial killer on the loose. Special Agent Tess Winnett calls this particularly elusive one the Taker of Lives.
After a well-known model commits suicide, Tess refuses to accept the findings and pushes for an investigation into the reasons behind the beautiful young woman's decision to end her life. What she finds surpasses her wildest fears.
The Taker of Lives might be closer than you think. Who's watching you sleep tonight?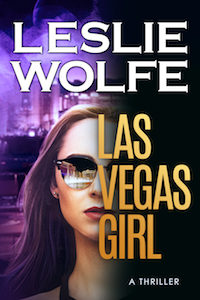 New: Las Vegas Girl
Detectives Laura Baxter and Jack Holt are members of the elite: Las Vegas Metro PD, one of the toughest and most respected law enforcement agencies in the United States. In the middle of a city with two million residents and 43 million annual visitors, they're hunting for a killer.
Two mavericks make an intriguing team. Baxter and Holt trust each other with their lives, only not with their darkest secrets.